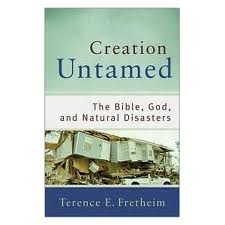 Chapter 3 – Natural Disasters, the Will of the Creator, and the Suffering of Job
This chapter focuses on the suffering of Job, starting with the emphasis that "the key reason for Job's suffering is his experience of natural disasters." One of the points that Fretheim emphasises throughout the book is that natural disasters are an outworking of the way that God has created the world, and in fact are "a key agent of God in the continuing creation of the world." Science tells us that without the movement of tectonic plates, there would almost certainly be no life on earth.
One of the ways in which Fretheim emphasises that the earth was not created perfect in the sense that we think of the word. It is well-attested that earthquakes and other such events were occurring well before humans appeared on the scene.
What Job experiences in his sufferings is that God does not intervene in stopping them from happening. As mentioned above, God does not micro-manage the universe. Fretheim even says that "one point of these speeches (between God and Job) is that God's governance of the world is not all-controlling." The world that God has created can be a dangerous world, but as also mentioned above, "without such potentially dangerous dimensions of the natural order, there would be no human life." As I read this section of the book, my first thoughts were that this is fine, but it still begs the question of why God did not make a world which could preserve human life more. Fretheim addresses this by stressing the following points:
This kind of world is "deemed necessary for it to be a good world."
God challenges Job to trust that God's design of the world, however dangerous, does manifest a concern for the life and well-being of all its creatures.
God will sustain such a world that is both ordered and open-ended (and therefore dangerous) because of its continuing creative potential.
There is a price, sometimes a horrendous price, that people may pay for living in such a world. But this is a price that God also pays, for God too will experience the suffering that the creatures undergo.
The God speeches are comforting words to job, helping him to see that God is ultimately responsible for creating and for still sustaining the kind of world in which his suffering is taking place.
Facebook Comments