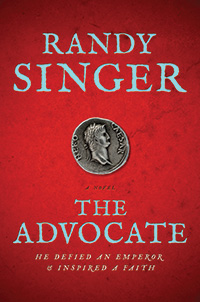 I think more Christians need to read historical fiction. I know I do. Having recently finished Randy Singer's The Advocate, I feel like I am only now re-emerging out of the Roman Empire of the first century back into life 2,000 years later.

The Advocate is the brilliantly detailed story of life under Roman rule as seen through the eyes of Theophilus, the "Most Excellent" one to whom Luke wrote his gospel and the Acts of the Apostles.
History doesn't give us the luxury of knowing who Theophilus really was, but Randy Singer, using his creative imagination derived from real-life accounts, gives us an excellent insight as to how the life of this recipient of Luke's writings might very well have played out.