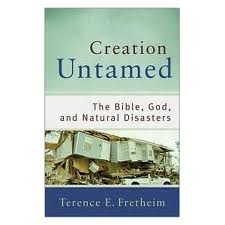 Chapter 2 – The God of the Flood Story and Natural Disasters
In this chapter, Fretheim looks at the story of Noah and the Flood and raises the issue of disasters being the judgment of God. There has been much harm done by various Christian leaders in referring to particular disasters as God's judgment over particular sins. Fretheim takes the angle that such pronouncements are dangerous and unbiblical, and that therefore, when thinking of judgment, we need to look at natural disasters as consequences of humanity's sinful behaviour. As Fretheim states it,
"That human sins, including the sins of violence, have consequences, including violence (see Gen. 6:11-13), is testimony to a functioning of the moral order, and this reality can be named the "judgment" of God."
He adds that "it is questionable whether the word "punish" is the appropriate translation for any Hebrew word in the Old Testament."
This is not to say that all disasters, or even most, should be looked at this way. Earthquakes for example cannot be said to be the result of human activity. As far as I am aware, there is currently no reliable evidence linking tectonic plate movements to the activities of humans.
Once again Fretheim stresses the relational aspect of God's character when looking at the idea of judgment. Through our Western lens we tend to look at judgment in legal terms. We need to remember, Fretheim says, that "if God is viewed as the divine judge behind the bench, remember that God is also the spouse of the accused one in the dock!"
According to Fretheim, God's judgment is always a reflection of the goodness of God. God's judgment is always over grief and God's character is never compromised. As Fretheim emphasises, "although God may give the people up to the effects of their sinfulness, God does not finally give up on them." The character of God is such that it is God who also suffers over the consequences of natural disasters. God's suffering and judgment is also manifested in human judgment. To this end, Fretheim says, "if there were no divine judgment on sin/evil, then human judgment toward that which is oppressive and abusive would not carry the same weight."
Facebook Comments