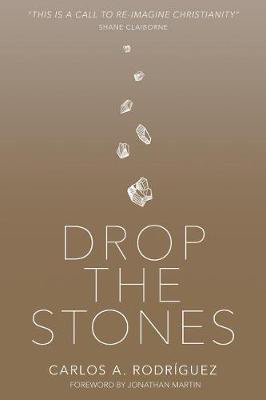 Sometimes you read a book and you get a sense that you want to be the sort of person the author is writing about. Drop The Stones is just such a book.
The author, Carlos Rodriguez, is a pastor, teacher and blogger who loves to write about his love of Jesus and of the grace he brings to broken people. This, his second book, is about the grace and forgiveness we see Jesus display in the story of the woman caught in adultery in John 8:2-11. Interestingly, this is a story that almost didn't make it into the gospel narratives, and some think it may have been added later. Whether it actually happened or not, it is entirely reflective of the love and grace of Jesus and gives us a wonderful look at just who Jesus is. And it is this that Rodriguez wants his readers to discover.
The book is divided into three sections. It looks at the story through the lens of the woman caught in adultery, the Pharisees who wanted her stoned, and Jesus who refused to condemn her. The emphasis of the book is on the fact that each of us can see ourselves in all three characters at different times in our lives. I know I certainly can and have, and the author is the same. That is actually one of the attractions of this book; Rodriguez is disarmingly honest and humble about his own weaknesses and where he has failed to be Christlike in his attitudes and actions at various times in his life. At the same time, he is glowing about others, especially his wife and others in his church community.
The other attraction of this book is that each chapter is only a few pages long and is generally told as a story of someone who has shown the love that Jesus showed to the woman. The shortness of the chapters makes the book easy to read and get into.