"All the books you never read, just started; all the meals you rushed, never tasted" – U2, Falling at Your Feet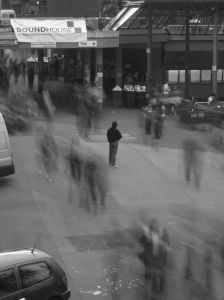 I lament our loss of reflection in this information age. We are the most informed generation in history but we are losing the art of reflection. We are constantly wired, and I don't mean just connected to an iPod or iPhone but emotionally wired. When we are constantly consuming information we are no longer being still and thinking about the deeper issues of life. Everything is rushed. We are overwhelmed with choice and we no longer feel at peace with ourselves. We have everything at our fingertips but don't know anymore how to be. We think we have to always be doing something; we feel guilty when we aren't being 'productive'; and we wonder if we're being lazy when we're lying around on a Sunday afternoon.
Linked to this loss of reflection is our culture's obsession with experience. We have a terrifying fear of missing out. We are the addict who thinks we cannot do without more and better. We talk about things being boring or cool. Now don't get me wrong. I don't believe in leading a boring life. The life of following Jesus is anything but boring; it is counter-cultural and filled with opportunities. But what this means is that we live a life that is other-centred and not based on how we feel at a certain time. A life of other-centredness is one that doesn't have to look for the next fix, because it is inherently satisfying. It is borne out of a deep knowing that we are loved by God and therefore don't need to spend our days and years trying to prove ourselves to others. We are free to love and serve our fellow human beings. This is what it is to be a follower of Jesus. This is life, and deep down we know it is the right way to live.
The way of Jesus gives the most satisfaction, the most depth and the greatest enjoyment of life. This is anything but boring, but it is not a life that seeks to avoid boredom as an end in itself. It is a life that has a higher end; a life that has found something better. For if we do not find what we are really looking for we will inevitably go back to the life we lived before, and, such being human nature, we will pick up where we left off and it will be worse than before. Jesus spoke of this when he told about the house from which a demon has departed but then has other demons more evil than the first one come back and make the house worse than before (Matthew 12:43-45).
Life in the information age promises so much but delivers so little. We are still dependent beings. The fact of human nature is that we simply cannot live without outside help. We are created with a God-shaped hole and as St Augustine and others down through the ages have said, we are forever restless until we find our hope in Christ. No wonder Edward Mote could write the words of that famous hymn back in the 1830s, "On Christ the solid rock I stand, all other ground is sinking sand".
We are indeed in trouble when our information age gives us so much to take in but leaves us with so little time to reflect on it. The Christian message is one which offers a way out of our malaise; a way out of the self-centred slavery to which we are addicted. The way to life is to fall at the feet of the One who is Life itself; Jesus, who says to our tired and information-burdened age, "Come to me all you who are weary and I will give you rest" (Matthew 11:28). It is when we reflect on this that we come back to reality and find the life that is truly life, where we share with those people down through the centuries who have had their lives unburdened and their hopes transformed.
Some more words from Falling at Your Feet sum it up eloquently:
all the information
all the radio waves
electronic seas
how to navigate
how to simply be
to know when to wait
this plain simplicity
in whom shall I trust
how might I be still
teach me to surrender
not my will, Thy will
Facebook Comments