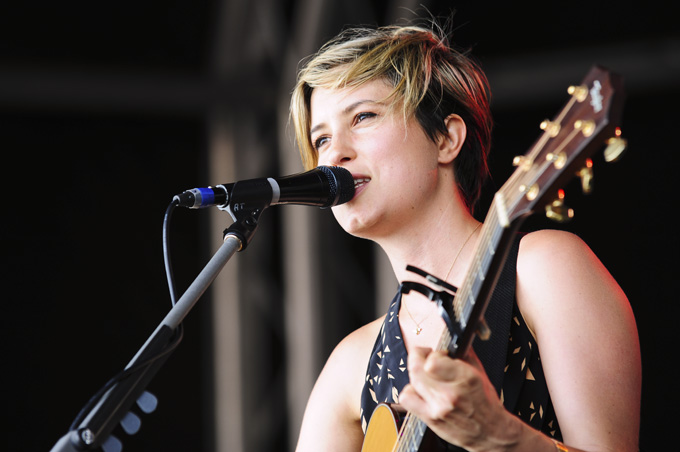 I have had the privilege over the years of seeing some great musicians live. And as someone who is not musical in the sense of playing or singing, I have found that the great artists all have their own unique sound: U2 and Midnight Oil come to mind for me. Another one is Missy Higgins.
When you have that sense that the first time you listen to an artist that there is something special here, it stays with you. That's what happened when I first listened to Higgins' first album, The Sound of White, about 10 years ago. The emotion, honesty and vulnerability in the stories she tells through her songs, songs of the everyday joys and pains of life, as well as her unique Australian sound, have had an impact on me that always have me looking forward to her next release.
Seeing her live though was something else. She has a wonderfully quirky, comfortable stage presence, like she is having a conversation with you. She has that wonderful combination of being a self-confessed introvert yet possessing the ability to be a natural on stage, confident and able to just be herself. With Missy Higgins, what you see is what you get.
Her songs generally tell a story of life in all its beauty and ugliness, and of the impact that music and people have had on her. Her latest album, Oz, is a covers album of songs that have had an effect on her young life. Like me, it is the lyrics of songs that have the greatest impact on her. It might be a line or just the way in which the story is told that triggers memories of days gone by when significant events happened to us or when there were turning points in our lives. This is what makes Missy Higgins so easy to listen to.
Higgins' music over the years has followed the example of those who have influenced her. But, like many quality artists, she is a whole package. It is her lyrics that inspire and take you to another place, but it is also how she sings, in that raw, honest, Australian drawl with a music that is fitting for the mood of the lyrics.
Not many artists are so open about their musical journey, but seeing footage of Higgins' life as she sang songs that describe her joys and pains, gives you a sense of connection that only the really good artists possess. Again, like artists of true quality, you come away from a Missy Higgins song feeling like you know her just a little bit more. That feeling was amplified seeing her live, as she told of the ways in which the songs from Oz left their mark on her. There was an intimacy about a show like this that leaves you both satisfied at the end yet disappointed that it couldn't go on for longer.
This was the last live show for Higgins for at least 12 months, due to the fact that, in her words, she has another project coming up next year which involves trying to bring up a human being.
The setting of the Regent Theatre in the heart of Melbourne was fitting for this excellent show. Performing her last show for a while in her home town, in a venue that is such an icon of this beautiful city, just added to the sense of occasion and feeling that was evoked by her presence. When she eventually tours again, be sure not to miss out on experiencing the delightfully ordinary, accessible yet beautiful stage-presence of an Australian icon.
Facebook Comments