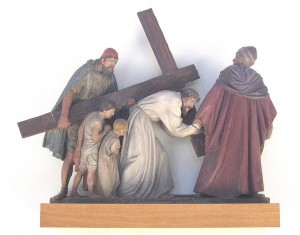 I've had an emotional couple of weeks. It started when my wife and I attended a conference on a Christian response to climate change. The situation really is dire but our response is not to be one of despair and throwing our hands up in defeat. Our response is to be one of Christlikeness – of love, justice and mercy, especially for the millions who will be affected the most and who have done the least to contribute to it – the poor.
During some breaks in the conference I was speaking to a few people and found out that a dearly loved woman in our church community who has been suffering from brain cancer had a week to live (she passed on the next morning. RIP Kate – safe in the arms of Jesus). We all thought she had about 9 months but not so now. A few of us went to see her the day before she died, along with her 12 year old son who she last saw as an 8 month old baby. It was so touching seeing her son take his mother's hand, but also so sad knowing that this will be his only memory of seeing his mother.
During another break in the conference we also found out that a couple we knew had split up, leaving kids traumatized and confused. That weekend was truly a sobering one.
Life is unspeakably sad, as psychologist Larry Crabb puts it. And as a song that we used to sing in church says, life is sad, and it might not get easier. There are no guarantees in life, not in this life anyway. Whatever we try to do to control life, in the end we cannot. Instead we are beholden to the whims of outrageous fortune and there is simply nothing we can do about it. Millions of people in Japan know all about that as I write.
Throughout the uncertainties and failed hopes of life, the Christian message is what sustains me. That is no glib statement; it is the hope of my heart. In Christ is my ultimate hope. He has promised that there will be a day when suffering will be no more, when brain cancer will be wiped away, when love will reign supreme in relationships and when the climate will sustain a healthy planet. Until then, loving is sadness, and we toil on, trudging the rugged, uphill road of life.
But despite our trudging, it is forward that we go, and forward we go together. In community, never alone, and never without ultimate hope.
Life is hard, anyway you cut it. So sang John Mellencamp in a song to which every honest person in the world can relate. We are not spared simply because we are Christian. To the contrary, it is because we follow the crucified One, the suffering God, that our suffering is all the more acute. The rain falls on the just and the unjust. No one is spared, but at the same time, no one is beyond hope.
Personally, I don't want to give my life to anything else. I love the way of Jesus. No, more than that, I love Jesus Himself. In a world of nonsense, he makes sense. In a world of bitterness and hatred he brings love, and in a world of disease he brings healing. O how I love Jesus, as the old hymn says it.
It is in the times of deepest sadness that love is found. It is at these times that we are shaken out of our slumber and reminded again of what really matters – love, relationship and grace. These are the things that endure. Ross Langmead sings a song which reminds us that we are not alone in suffering, that Jesus goes before us: "We are not alone; he knows our sorrows, he will turn our tears to joy."
Our suffering is not meaningless. Martin Luther King talked about redemptive suffering, suffering that grows and heals us. The road to life feels like the road to death at times. But it is redemptive. Our pain does not go unheard. It does not simply disappear into an indifferent universe, lost forever with no one knowing and no one caring. Who of us can deny that suffering is real? The promise given to the ancient Israelites when they were suffering under the yoke of slavery in Egypt is the same promise given to us: 'I have heard your cries and will do something about it.'
What God has done about it is absorb our pain on a brutal Roman cross, and rise from death, never to be defeated again. This was truly victory in defeat, as Sammy Horner so beautifully puts it:
That the nails that pierced his hands
And the thorns that pierced his brow
And the spear that pierced his side
And the nails that pierced his feet
Showed us there can be victory in defeat
We do not go forward in this life alone. Jesus does indeed go before us. Our suffering does not go unheard. It has a purpose and will one day be turned into joy unspeakable. Until then we toil and trudge, but with the hope of a future where this old order of things – death, decay and disease – will have passed away forever. Amen, come Lord Jesus.