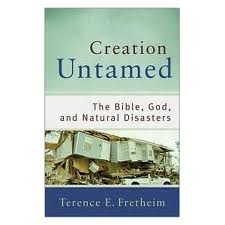 Conclusion
A book which takes on such a difficult topic as the relationship between God and natural disasters can leave one with a feeling of helplessness. This book however ends on a strong note of hope. As mentioned above, the promise of God is of a new heaven and a new earth where all suffering will be no more. Fretheim points out from the life of Jesus that while he stilled storms and healed people, he didn't do this in all cases. He didn't heal everyone in his vicinity for example. Instead,
"Jesus' actions point to a future world, thereby signalling that the kind of world Isaiah envisioned is on its way. Jesus provided signs of a different future that God has in store for the natural world."
The relational, loving character of God is what comes through most in this book. This is quite an achievement in a book about the relationship between God and natural disasters. From the very beginning, God has wanted us to be co-creators. This means that, to a very significant extent, the future is in our hands. As Fretheim says,
"The future is partly settled and partly unsettled. It is partly settled, yes: there will be a new heaven and a new earth. But the future is also unsettled: our words and deeds in our world will make a difference in the shape of creation's future."
The issue of God and natural disasters is one that has perplexed the most inquiring of minds for thousands of years. It has led many to faith and many away from faith. In the end there is mystery and we can never fully fathom the ways of God. What we can do though is trust, and, like Peter, when asked by our Lord if he wanted to join those who were leaving Jesus, responded, "to whom else would we go; you have the words of eternal life." Fretheim's book encourages us to trust in a God who is good, despite what we see around us, despite the indescribable pain of those in the midst of suffering. His explanations are biblical, well thought through and compassionate. I recommend this book to anyone seeking to understand how it is that we can worship a God of love in a world where disasters fall indiscriminately on the just and the unjust.
Recommended further reading:
Christopher Southgate, The Groaning of Creation: God, Evolution, and the Problem of Evil(Louisville: Westminster/John Knox, 2008)
Jon Sobrino, Where is God? Earthquake, Terrorism, Barbarity, and Hope (Maryknoll, NY: Orbis, 2004)
Terence E. Fretheim, God and World in the Old Testament: A Relational Theology of Creation(Nashville: Abingdon, 2005)
John Polkinghorne, Quarks, Chaos, and Christianity: Questions to Science and Religion (New York: Crossroad, 1994)
Facebook Comments