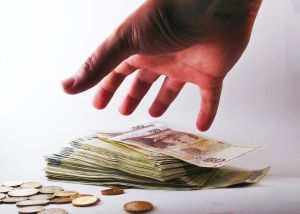 In the U2 song, Peace on Earth, Bono sings of his frustration about our constant talk of peace without it ever really happening. Peace, peace, when there is no peace is the cry of the prophet he is echoing. All around we see power corrupting and people in power getting their way at the expense of those with no power. Over and over again it happens.
I have no trust in political and economic systems. Ultimately I trust more in Jesus, whose power did not corrupt and through whom our desires for power are redeemed. John Smith asked a question many years ago which is a challenge for everyone who claims to be a serious follower of Jesus. The question is this: who are your friends and who are your enemies? The point he was making is that, when you look at the life of Jesus, his friends were overwhelmingly the powerless, the marginalised and the oppressed. And his enemies were overwhelmingly the rich, the powerful and the oppressors. If our friends and enemies are the same type of people who Jesus had as friends and enemies, then chances are that we are following Him and can claim the name 'Christian'. If our friends are the rich and powerful, and our enemies are the poor and powerless, then it is pretty much certain that you are not following Jesus and cannot legitimately call yourself a Christian. Harsh words, but I defy anyone to tell me that what I am saying is not biblical.
Another question that John Smith has asked is along similar lines. It is a study of Jesus' encounters with the powerful and the powerless, and whether they were positive or negative encounters. Not surprisingly with Jesus, his encounters with the poor and powerless were overwhelmingly positive, whilst his encounters with the rich and powerful were overwhelmingly negative. Jesus was constantly in trouble with the authorities, and at the same time, the common people heard him gladly (Mark 12:37).
Until the day Jesus returns there will be injustice and abuse of power in this world. Humanity is too sick to change itself on its own. Martin Luther King knew this. On the day that President Kennedy was gunned down in Dallas, King told his wife that the same would happen to him one day, because society is too sick to know any better. Tragically, this great prophet of the 20th century was right, cut down himself only five years later, one more person who stood up for the powerless being silenced in the ultimate manner.
I feel a deep sadness and frustration when I see the powerful abuse their power at the expense of the powerless. A clearly guilty white collar worker gets off because he can afford the best lawyers; executives give themselves huge bonuses while they decry any request for a pay rise by those lower down as dangerous for the economy, and politicians share the perks of office while their constituents struggle each day to make ends meet.
Who can we believe in any more? Who is trustworthy? And here is where I point the finger at myself. Am I trustworthy? Do I abuse my power to get what I want at the expense of those who don't have the resources that I do?
It is at the times when I hear of power being abused that my faith in Jesus is strengthened. He is the only one who is ultimately trustworthy; He walked his talk, he lived out the courage of his convictions, and when abused himself, he continued to show the way of love. In him is our trust ultimately not misplaced. In him is our only salvation.
Facebook Comments