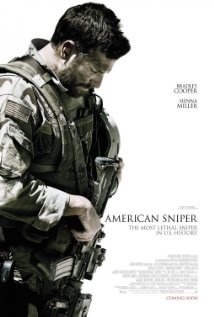 War is hell. So said American soldier William Sherman, during the American Civil War. And this is exactly what we see in American Sniper, the true story of Navy SEAL Chris Kyle, the most deadly sniper in US military history.
I've recently been talking with a friend about events like Anzac Day and how it is viewed by different people. I have always had mixed feelings about what is seen by many to be Australia's national day, whereas my friend, who had a relative who fought at Gallipoli, is able to resonate much more than me with what Anzac Day is about.
In a similar way, this movie does not glorify the American assault on Iraq following the terrorist attacks on the US on 11 September 2001. It does however tell the story of the effect that war has on ordinary people who simply want to do their best for their country.
I am no nationalist, but I do believe it can be legitimate to love and be proud of our heritage. So it is with Chris Kyle, whose response when he sees the attacks on the World Trade Centre on that terrible day, is to want to serve his country by going to Iraq to deliver what he sees as justice in order to protect his country.
The movie starts in Iraq with the moral dilemma Kyle faces when he must decide in a matter of seconds whether or not to shoot and kill a young boy who is running towards US troops carrying a large explosive in order to kill them. Before we are shown what Kyle decides, we are taken back to his past, which includes his introduction to and subsequent marriage to the love of his life, Taya Studebaker.
Kyle ends up serving on four tours of Iraq, each one bringing more and more stress on the wife and children he loves so dearly. He seems torn though by his love for his family and his love and dedication to his country. Despite the protestations of Taya, Kyle keeps going back to Iraq to serve on one more tour.
It s a well documented fact that the post-traumatic effects of war on veterans and their families has untold social costs on families and, ultimately, the world as a whole. It is my belief that nothing good comes from war. This is why my heroes are people like Martin Luther King, who so passionately believed that hatred could not drive out hatred, that only love could do that, and that that love extends to international relations as well as to interpersonal relationships.
As the movie proceeds, we see the effects on Kyle of his time in Iraq. His blood pressure goes though the roof, and he is constantly unnerved by the slightest of noises which trigger thoughts of similar, though deadly, noises, during his time in Iraq.
Without giving away the ending, Kyle's ultimate fate is eventually decided not while on tour in Iraq, but back home in his beloved USA.
The resultant funeral procession for Kyle brought out thousands of ordinary, proud US citizens paying homage to one of their own as a national hero. As I watched the scenes of people waving American flags on the side of the road as Kyle's funeral procession passed by, I could not help but be moved by the respect that Americans have for their fallen. I saw this myself when I was in the US on Independence Day in 2011. American patriotism is indeed over the top, but I was nevertheless impressed by the love they have for their country, misguided though much of it may be.
Overall, American Sniper is a movie which shows me the terrible effects that war has, not only on the soldiers who fight, but on innocent people in the countries in which the war is being fought. Throughout the movie, we see women and children absolutely traumatised by American troops storming their homes to hunt for terrorists. It is easy to see from this why more war simply breeds the terrorism we are trying to destroy.
William Sherman was right. War is indeed hell. It has no lasting positive effects, and merely perpetuates the cycle of hatred that it purports to stop.
American Sniper is more than the story of Chris Kyle. It is the story of what happens when we allow ourselves to fall into a cycle of revenge, guided by the mistaken belief in our nation's ultimate sovereignty, to bring what we wrongly believe is justice to a nation we see as compliant with evil.
The human heart is indeed deceptive and in need of redemption. American Sniper is one more reminder of this reality.