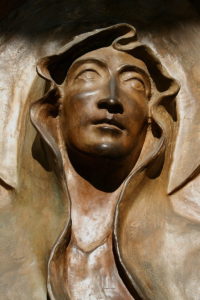 Humanity can live without success but we cannot live without meaning – Richard Rohr
When life hits you where it hurts, when something knocks you off your feet, pulls the rug out from under you and turns your life upside down, it is then that the things that really matter become crystal clear to you again.
It is said by wise people that love brings clarity. I have found that to be true. And something else that brings clarity is suffering. It is only through suffering that we grow, that we come to a knowing in our heart and not just intellectually that things like relationship and meaning are what really matter and that everything else is just superficial.
This is a major reason why I remain a person of Christian faith. The Christian movement was birthed in suffering; Jesus was known as a man of sorrows, acquainted with grief. Being Christian and seeking to grow in my faith makes sense to me when nothing else does. It allows me to have joy (not happiness) within suffering.
Our greatest lessons in life are learned in suffering. We don't learn that in our daily interactions with our culture. Our leaders talk about being successful and winning, and our advertising is deliberately targeted to make us perpetually dissatisfied with what we have in life. But it was the Apostle Paul, writing from prison, who said that he had learned what it is to be content whatever the circumstances.
Why was it that those first followers of the man of sorrows, people like Paul, Peter and James, repeatedly talked about joy when they were beaten, lashed, imprisoned and tortured for refusing to budge from their way of life? They were people who were living in what Richard Rohr calls the second half of life. They knew through their suffering what really mattered. They were able to count it a privilege to suffer for what was called 'The Way'. They were able to count it all joy when they faced trials of all kinds. That idea is lost on us in a society that values comfort and ease and feeling good above most everything else. But that brings its own suffering as addiction runs rampant as we want to feel all we can and are made to believe that more and better will give us what we want.
A few months ago I walked down the Via Dolorosa in Jerusalem. The Way of the Cross as it is called is the path that Jesus carried his cross to his crucifixion. John's gospel says that Jesus' crucifixion was when he was glorified. This is another idea that is lost on an affluent society. But it is the only way to life. That is why Jesus, surely knowing what lay ahead of him, said earlier in his ministry that anyone who would come after him must deny themselves, take up their cross and follow him. It is why Paul later said that anyone who follows Jesus will be persecuted.
Relationship and meaning in life are what ultimately matter. Suffering is the key that unlocks these truths.
Facebook Comments