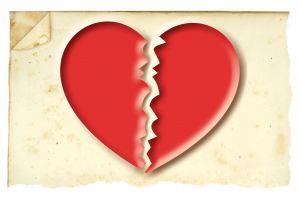 Not long ago I believed that the root of our problems in life stem partly from the fact that we don't really believe we're loved, that if we had a sense of who we are as people loved by the Creator of the universe, it would revolutionise our hearts. And I still believe that. Love does indeed revolutionise our hearts. Martin Luther King was right. Love is the most powerful force in the universe, and only love can drive out the self-loathing in our hearts.
When you know you are loved you want to do good – most of the time. But having said the above, I also see now the reality of human sinfulness. Listening to U2's The First Time recently, I realised (for the first time!) how much I can relate to it. Years ago, having tasted that the Lord is good, I then went off and did things my own way again. I "left by the back door and threw away the key" as the song goes. I used to struggle with how anyone could know the love of God so deeply and then reject it. But of course it's possible. How could I be so naive to be so surprised that it happens?
There are deep reasons in the human psyche as to why we make certain decisions in life. There are reasons of hurt and deep abuse in many people that cause them to be unable to trust at depth, even when shown the greatest love. When shown such great love, they believe it is too good to be true. Like St Peter of old when Jesus gave him and his mates a bountiful catch of fish, the great apostle – confronted by the unbelievable generosity of a God who gives without conditions – cannot face the good news that God would choose even him. Doesn't he know how sinful I am? In Peter's broken mind it is too good to be true. At that moment he coudn't believe that He was loved that much, that he was thought of that highly.
But as much as we are victims we are also agents. Having made the courageous decision to follow Jesus and come to know a life and love beyond his wildest comprehension, he then deserts his Master at the hour of his greatest need. Peter is a man I can relate to. He showed the potential for the greatest devotion and yet also showed the greatest act of cowardice. How could this be so in one man? I think Alexander Solzhenitsyn nails it better than anyone I know of:
"the line separating good and evil passes not through states, nor between classes, nor between political parties either, but right through every human heart, and through all human hearts. This line shifts. Inside us, it oscillates with the years. Even within hearts overwhlemed by evil, one small bridgehead of good is retained; and even in the best of all hearts, there remains a small corner of evil."
How I can relate to that. Deep in my heart there is the propensity for both the greatest evil and the greatest good. For me, this highlights even more the importance of maintaining a spiritual life of closeness to Jesus, of passion to be Christlike. I have seen the consequences of destructive choices I have made and I don't want to go there again. Yet at the same time, those same things still tempt me.
I have found that the more I surrender my will to God, the more I become the person I really want to be. If I don't surrender, I will hover between the good and the evil, and I will find myself tormented by that eternal question, 'who am I?' Am I the person who is friendly and genuinely wants to do good, or am I the person who secretly wants to use people and take what I can get regardless of the consequences? The closer I stay to God, the more I am spared the torture of that hellish question. Thankfully, the lyrics of The First Time hold true:
I have a brother
When I'm a brother in need
I spend my whole time running
He spends his running after me
This is the prodigal God. We spend our lives running from Him, and he pursues us, the Hound of Heaven in hot pursuit. And little by little we can surrender and say we've had enough. We run up the white flag and submit to the One who gives us life. Little by little, if we are willing, He reveals our defects to us, and little by precious little we hand it over for Him to do with it as He wills. Jesus said "come to me, all you who are weary and burdened, and I will give you rest. Take my yoke upon you and learn from me, for I am gentle and humble in heart, and you will find rest for your souls. For my yoke is easy and my burden is light" (Matthew 11:28). God how I need that. God how I want that today. I pray that tomorrow I will as well.
Facebook Comments