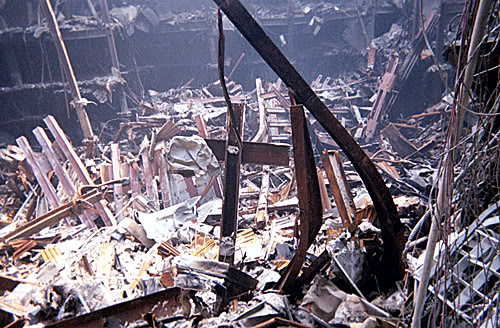 This is the third and final of my reflections on 9/11. The first one is available here and the second is here.
Christian faith is about hope, that goodness really does prevail. As Martin Luther King said, the moral arc of the universe is long, and it bends towards justice. I have to ask myself, do I really want life? Or do I want a counterfeit that promises the world but leaves me more empty than before?
It has been said by many people that God is more interested in our character than our comfort. In Wrecked, Jeff Goins writes:
"People who allow their hearts to be broken for the brokenness in the world have something that most of us don't. Compassion. Selflessness. Freedom. They "get it" in ways that most of us would find envious. There is a distinct clarity of purpose and calling in their lives that is astounding. In the face of suffering, they somehow have learned to shed their narcissism in exchange for a more meaningful life. It is incredibly brave and inspiring."
He continues by talking about the necessity of pain if we are to really live:
"We cannot become who we are without going through pain. And who can do such a thing without trusting the struggle is worth it? Or that the results will be good? We must endeavour to be wrecked with a deep, reckless faith that confounds the world and maybe even puzzles us at times. It will be worth it."
We live in a sick society. If that sounds morbid, well then it probably is. But it doesn't mean we have to be. What God does in our hearts is give us the ability to deal with life on life's terms. As Christian psychologist Larry Crabb has said, life lived on our own doesn't work, so quit trying. The 20th century alone should help us see that. That was a time when there were probably more wars and conflicts and people killed than at any other time in history. And it was a time when we finally developed the ability to destroy all life on the planet. Christian faith though gives us hope beyond that, that this life is not the end; it is not all there is. It proclaims loudly that when we live as we ought we can rise above the struggle; we don't have to be defeated by the problems of life.
What story are we buying into? Do we want to continue being the victims of a dying culture? My friend Eden Parris sings a song called Rumours of Hope. Some of the words are: "Don't sing a song for a world that is ending, don't sing a song in the style of the cynic, don't sing a song for a world that is passing away. But sing a song for them rumours of hope."
As we remember the horror of 9/11, let's ask ourselves, are we living a life of contradictions? Does sponsoring a child for forty-odd dollars a month give you an excuse to live an excessive lifestyle because you are already doing your bit? We are called to a better story. So many people today, so many young people, are sick of living a life of materialistic excess. People the world over are moving to a better story. But it's only a lasting story if the human heart is changed as well. If our hearts aren't changed by the unconditional love of God, then the mistakes of previous generations will be visited upon future generations as well. We might do a bit better for a while, but nothing will really change.
God is calling us to a better story. For all the controversy around his book, Rob Bell is right about at least one thing. Love wins in the end. As we remember what is a painful anniversary for many this week, we need not despair. We can grieve with those who grieve, and we can live with joy within suffering. That doesn't mean denying it or repressing suffering; it means not giving in to it. It means letting the life of God flow through us and out into a world that needs it. Life is found by entering into the pain of the world's brokenness. As Eden Parris says, it hurts but it's worth it.
Facebook Comments