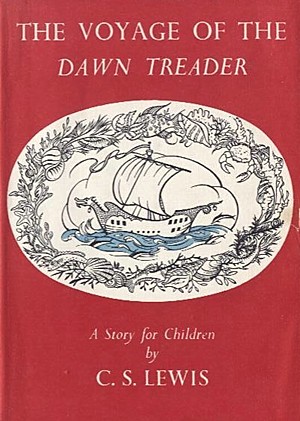 This third movie (but not the third story) in C.S. Lewis' Chronicles of Narnia follows on from the brilliant fantasy and wonder that we saw in the previous two movies. This time only Lucy and Edmund of our four heroes are transported to the magical land of Narnia (older sister Susan plays a bit – but significant – part as well). And they are accompanied, not a little unwittingly, by their cousin Eustace, brilliantly portrayed by Will Poulter as what can only be described as a pretentious little git who is too clever to believe in ridiculous fairy tales of magical lands, witches, and half-human/half-animal creatures.
It is the story of Eustace that is perhaps the most revealing of the effect that time in Narnia, and in particular, time spent in the company of Aslan, can have on its inhabitants. For, as well as being pretentious and pompous beyond measure, the difficult cousin of Lucy and Edmund is a selfish little boy as well. Inevitably his selfishness gets the better of him and he succumbs to the lure of riches that are seemingly there for the taking. The effect of his ugly transformation after giving in to the temptation reminds me of the old saying that we become that which we worship. The ugliness of Eustace's act turns him into the ugliest of dragons, and it is only then that he realises what a right mess he has gotten himself into.
It is interesting that our response to being found out in the way that Eustace is, is generally twofold. We can either repent and turn our lives around with the help of what 12-Steppers call a Higher Power, or we can doggedly continue on in our life of destruction, becoming less and less human on the way. Fortunately for him and his companions in Narnia, Eustace chooses the former and realises that he doesn't want to be this way anymore. As often happens in the process of conversion though, Eustace begins to change for the better before he becomes a boy again. But it is a painful process for him, as he becomes despondent at his inability to communicate properly to the others, and at his utter powerlessness to change back to a boy on his own. It is only with the help of Aslan that he is ultimately transformed back into what he was, and better.
The power of temptation and sin to corrupt is a theme that runs strongly throughout this movie, and it is seen elsewhere when even people as good as Edmund and Caspian start to fight each other over some riches that are theirs for the taking. The viewer is quickly attuned to the transformation that overtakes the two as their lust for greed turns them from heroic leaders into selfish competitors. It only takes the sense of Lucy, the younger sister whose trust in Aslan is as strong as ever, to turn Edmund and Caspian back from their errant ways. But even Lucy feels the lure of being other than what she is, regularly fantasizing about being as beautiful as her older sister Susan.
As with the previous Narnia stories, Aslan comes across in this movie as strong, fierce, but also completely trustworthy and good. When our intrepid travelers find themselves in the trouble that they do, it is Aslan and who he is that brings them back to their right minds. And when, in another poignant scene, they come upon a table set for a feast in their journey through Narnia, they are encouragingly told that all are welcome at Aslan's table. As well as being ultimately good, Aslan evokes a healthy fear and trust but is never one who can be mocked. Sort of reminds you of someone doesn't it?
With Aslan in control, Narnia is a place where good reigns and those who trust in him are friendly and at peace. It is a place where courage is a virtue, and fearlessness and strength are held in the highest esteem. These attributes come from ultimate trust in Aslan and are demonstrated by the seemingly most vulnerable of children. When the storms are raging on the uncharted waters and the ship, Dawn Treader, is being tossed about like a cork, it is Lucy who, in the midst of it all, is able to soundly go to sleep with the smile of one who knows – despite the chaos all around – that all is going to be ok.
This is a movie that highlights the best and worst of human attitudes and endeavours. And it highlights once again our utter inability to change ourselves on our own, and the hope that there is someone who is ultimately good and trustworthy who will transform us into who we are meant to be. Highly recommended.
Facebook Comments