My wife and I saw the movie The Way last night. It's a wonderful story that portrays the unbreakable fatherly love of Tom (Martin Sheen) for his estranged and just deceased son, Daniel. In learning that his son has just been killed on his first day on the Camino de Santiago (The Way of St James) in France, Tom travels over to collect Daniel's body. While there though, he is suddenly hit by the magnitude of his loss and decides to make the trek himself that his son had set out to do.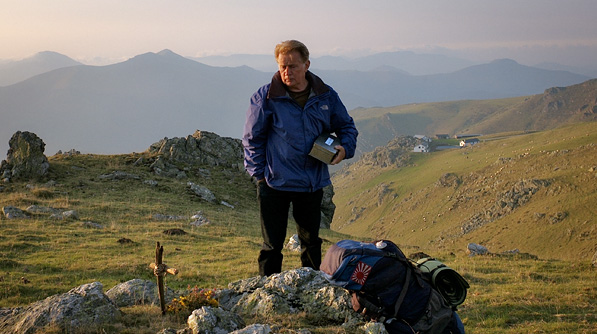 This is a story of redemption and the search for meaning. Richard Rohr says that the soul can live without success but it cannot live without meaning. This is something I have been thinking about a bit recently. If we spend our lives dedicated to the pursuit of pleasure, or money, or status, we will be forever coming up short. We will remain in a state of perpetual dissatisfaction and never be happy, or else we will become satisfied with a life of mediocrity and never reach the potential we all have.
As Tom goes on his journey he comes across some characters that he would never choose to have as friends in his cosy Californian lifestyle back home. There is Joost from Amsterdam, Sarah from Canada, and the stereotypically Irishman, Jack. What we don't see so much of in this story is the change in these latter three characters, but we see it in spades in Tom. Older than the others, he gradually thaws from a frozen, aloof and even arrogant man to learning to enjoy the company and care of his three new travelling companions. His journey reveals that he is not only deeply affected by the loss of his son, but also by the love and warmth of these three strangers in his midst.
Meaning is something we all strive for, whether we realise it or not. Most of the time though, we are so satiated by the entertainment saturation of our culture that we don't recognise the void within our souls. Walter Brueggemann explains this eloquently in his book The Prophetic Imagination. It is often only when we are confronted with the type of terrible loss that Tom is faced with that we see our need for change. As Tom continues on his pilgrimage, the frown on his face softens, and he learns to get into life and smile more often. The real change though comes after an encounter with a gypsy family, one of whom runs off with Tom's backpack (which contains the ashes of his son). The much-maligned gypsies, defined stereotypically by theft and deceit, show Tom what community and relationship is about. In one revealing conversation between Tom and the father of the boy who stole Tom's pack, the father explains that up to 2,000 people attend gyspy weddings. Surprised, Tom points out that they couldn't all be close family or friends. He is shocked however when the father explains to him that they are indeed all close. These gypsies know what community is all about.
As Tom continues on the way, he is occasionally struck with images of his deceased son, and reminded of the admonition his son once gave to him, that you don't choose a life, you live it. We only get one chance at this thing called life; this is not a dress rehearsal. We are thrown into it at birth and expected to make the best of it, hopefully with all the love and support we need. As my wife pointed out to me, choosing our life is a very Western idea. Most people in the world don't get to choose their life, and many don't even get to live it. But our attitudes towards life are something that no one can take from us. It is amazing what those who have been through the most immense suffering can teach us in the West about how to live our lives. I think of people like Viktor Frankl, stuck for years in a Nazi concentration camp during the Second World War. Frankl of course didn't choose that life, but he has much to say to us about it , especially in his book, Man's Search for Meaning.
One of my greatest fears in life is that I will end up like Tom's three new friends at the end of The Way. In the end, they didn't change. Joost decided he wasn't going to lose weight after all, Sarah was never going to give up her cancer sticks, and Jack seems to remain stuck in his mediocre life. We are too comfortable here. Australia is the second most wealthy country in the world, yet we seem to have the least in terms of meaning to our lives. Many would dispute this of course, as many find their meaning in their devotion to daily and friends. But beneath all of that we are sold the lie that life is found in more stuff. Advertisers deliberately create a dissatisfaction within us by telling us that we will never be happy until we buy their products. So we walk through life perpetually unhappy and comparing ourselves to others. The sin of covetousness is alive and well in 21st century Australia. That is not an indictment on the Australian public, but I think of Jesus' warning: "woe to those who cause others to sin." Advertisers, hear the warning.
http://www.youtube.com/watch?v=nIsU5H7dBCM&feature=player_embedded
The human soul cannot function without something to live for. And as John Mellencamp sang so many years ago, if we don't stand for something, we'll fall for anything. Our life needs to mean something, and if we are constantly entertained, if we constantly live for the weekends or for the next holiday (as legitimate as these are in themselves), we will remain forever dissatisfied. For real change to take place, we need to be aware of the dissatisfaction in our souls with the way things are. We also need to have a vision for a better alternative, and to have people around us who are yearning for the same thing. This is what Jesus meant when he said that "no one who has left home or brothers or sisters or mother or father or children or fields for me and the gospel will fail to receive a hundred times as much in this present age: homes, brothers, sisters, mothers, children and fields—along with persecutions" (Mark 10:29-30). Contrary to what prosperity 'gospel' preachers may say, this passage is not at all about Jesus saying that we will gain a fortune in houses for ourselves when we follow Jesus. That is a purely individualistic way of looking at it. Jesus was talking about community. When we follow him, we gain the hospitality of other pilgrims on the way, as the first Christians showed.
Tom found meaning on The Way of St James (interestingly, it is James who has the most dire warnings to those who want to be rich in the early church). He began to know again what life was about. He could relate to the God of Jesus in knowing what it was like to lose a son. His pain drove him to become a better person. He didn't push it down or try to drown it in short-term pleasures which would only leave him more unsatisfied later on. He found a deeper magic, found the things that really matter like relationship, community, and the joys that come from sharing life and its struggles in true intimacy with others on the rough road that is often life. There is a revealing scene in another poignant movie, Up in the Air, when George Clooney's character is trying to talk his future brother-in-law out of bailing out of his upcoming wedding. He asks his future brother-in-law to think about the fondest memories of his life, and then points out that the are always ones that were spent with others. Our fondest memories are rarely ones we experienced alone. Our best times are with loved ones, as they would be for a species like us that is wired for relationship. It just makes sense that our most enjoyable moments are the ones for which we were made.
The Way probably wasn't the best movie I have ever seen, but it definitely had an emotional impact on me. It touched something deeper, something raw, something which we all know deep down is what we are really about. Relationship does that; it resonates with everyone. The saying certainly is true that while we can live without success, we cannot live without meaning. May I further realise that on my continuing journey on the way.