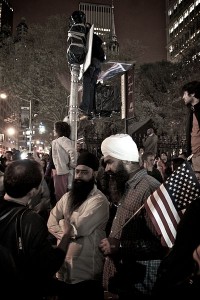 As opinions over the death of Osama Bin Laden go viral over the world-wide web, I have been both impressed and saddened by the responses I have seen. Like most people of civilised mind, I am glad that Bin Laden can no longer terrorise the innocent victims of his murderous, monstrous and unjust actions. The man was a monster and deserved to be brought to justice in the most powerful way possible. It's a pity that he was not.
This is where President Obama is wrong. Justice has not been done in the killing of this terrorist. The words of America's greatest prophet, Martin Luther King, echo through the ages: "peace is not the absence of conflict; it is the presence of justice." Because justice has not been done in the killing of Bin Laden, peace will not be the result. As surely as night follows day, the forces of al-Qaeda will be planning revenge attacks, and the cycle will continue. And where will it end? In this day when we have the capacity to destroy the only planet we have, King's words cry out to us again: "it is no longer a choice between violence and non-violence in this world; it's non-violence or non-existence." Rejoicing in the death of Bin Laden reduces us to the level of his brutal actions.
The thing about the word of the prophet is that it is timeless. King spoke those words more than a generation ago but they ring true today more than ever. Violence begets violence and hate begets hate. It is a never-ending cycle.
The fact is that we simply must get over the myth that non-violence is somehow weak and that might is powerful. Myriad examples through the centuries simply disprove this idea. Sojourners has an excellent collection of resources which expose the myth of redemptive violence and illustrate the power of non-violence through actual examples of it over many years. I have also blogged about this myself, particularly about the misunderstandings over what Jesus was really referring to when he said to turn the other cheek.
It is love and non-violence that will triumph in the end, not the weakness and impotence of violence. Miroslav Volf touches on this in his reflection on the Christian Century website, where he has included a quote from a young Christian leader from the Middle East – a view forged in a majority-Muslim country:
A huge opportunity now–after the death of bin Laden–is for Americans to intentionally free themselves fully from the domain of fear and those who manipulate it for their own agendas. Politicians will be looking for the next "enemy" to continue to distract you from being truly the "land of the free." You are not free until you eliminate all your fear. Love drives out fear.
As Daniel Sturgeon points out, "Osama bin Laden's mistake was to believe that violence could bring righteousness. He acted in line with this misbelief and the consequences for the whole world have been catastrophic." And those who believe justice has been done by taking him out fall into the same trap. This is where the response of some of the tabloid media in Australia has been shockingly predictable. Headlines like the Herald-Sun's 'Unarmed – just like his victims' promote the same hatred that Bin Laden did. It was Gandhi who said long ago that this old law of an eye for an eye leaves everybody blind.
Another of the better articles (in my opinion) I read during the week was from Gideon Boas and Pascale Chifflet in The Age, in which they pointed out the pertinent fact that saying that killing Bin Laden was a good thing because he is scum that deserves nothing less belies the very notion of 'us' being the good guys ("who believe in the value of life, the rule of law and fundamental human rights") and 'them' ("murderous hateful souls ") being the bad guys. What is the difference between us and them when we engage in the very same actions that they do? This is not justice; it is revenge, and the two are as far apart as east is from west.
One of the points that I have not heard from those on the Christian Left (I hate that term but I can't think of anything better to describe such a group at the moment) is that of sparing our thoughts and prayers for the victims of 9/11 and for our brothers and sisters in the US in general. The events of this week will bring all the nightmares of that terrible day flooding back for them. I can't imagine the feelings they must be going through. Many would be feeling huge relief, many others would be convinced that justice has in fact been done and nothing anyone says would convince them otherwise, whilst others – and I suspect the majority – will be thankful but ever mindful that even the death of the mastermind of those terrible attacks cannot bring back their dear ones. We must spare our thoughts and prayers for them this week as well. While I cannot agree with those who rejoice at Bin Laden's death, I have to ask myself how I would respond if I were in their shoes.
So, opinions abound, as they will for a long time to come. But perhaps the best sociological reflection of this event comes from Mark Sayers, who explores the responses of both the Christian Left and the Christian Right, among many other groups (Here I will add that the reason I hate the terms 'Christian Left' and 'Christian Right' is that they label people. At different times I could find myself in either camp. The only label I want to be stuck with is 'follower of Jesus'. Having said that, I see where Mark is coming from to make his point). In the end Mark says that he does not celebrate Bin Laden's death, nor does he mourn his passing. Most of all he waits for the return of him who is both perfect love and justice. Wonderful words. In the end that is our hope. We have the promise of a day when there will be no more need to justify killings in the name of God or anyone else, when death and violence will have passed away forever. Until then we mourn and as we do we are blessed by the Man of Sorrows who mourns with the victims of injustice everywhere.