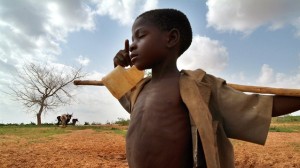 One song that is very haunting that I listen every now and then is U2's Wave of Sorrow. It is a song that didn't make it on to The Joshua Tree album back in the late 80s. The song is about Bono's experience of visiting Africa during the 1984 famine, and the desperate situation that he experienced.
The same is happening now in West Africa. Famine is decimating that part of the world, and the media needs to wake up to it before too many more lives are lost. Here is a strong article from Rich Stearns, President of World Vision US and author of The Hole in Our Gospel. Stearns urges the world's media to report about this before thousands of lives are lost ad it becomes 'newsworthy.'
Please do what you can to give to organisations like World Vision to provide relief for those who are starving as you read this (you can click on the banner to the right to go to the World Vision Australia website). I am sitting on a comfortable sofa bed at home with the heater on as I write this. We are so comfortable, and in many ways so far removed from suffering like this. It can so easily be a case of out of sight, out of mind. Giving some money might mean giving up a cup of coffee a day for a few weeks. It's really not a lot to give up in our cosy world.
In the meantime, let yourself be moved by some of the words of Wave of Sorrow, then have a look at the clip below.
Oh, oh this cruel sun
it's daylight never done
cruelty just begun
beneath the shadow of everyone
And if the rains came
and if the rains came now
would they wash us all away
on a wave of sorrow?
Facebook Comments