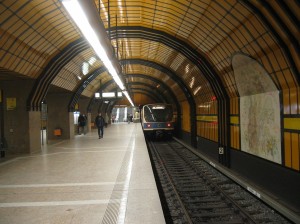 One of the many great paradoxes of Christian faith is he fact that we simultaneously live in the 'now and the not yet.' In Jesus, God's future world has come into the present. Through his life, death and resurrection, and through the continuing acts of faith lived out throughout history, preparation for the final act of a totally transformed existence has begun.
Explaining this in terms that are understandable to the layperson however is not easy. The best analogies I can think of have come from C.S. Lewis' Narnia Chronicles. But I recently came across another excellent description of it in the December 2012 edition of the Uniting Church's Crosslight magazine. In this issue, Chris Mostert, recently retired Professor of Systematic Theology in the MCD University of Divinity, wrote a reflection about Advent. He says Christianity is fundamentally an eschatological faith: we ultimately live with the great hope of Revelation 21:1-5, the complete renewal of all relationships in the universe. I was so impressed by Mostert's article that I want to quote all of it here, but I will stick to the most salient parts.
Reflecting on the fact that, in Jesus, the future renewal has already started, Mostert adds that
"it is the mission of the Holy Spirit to bring this future reality into our present experience. We experience it in an 'anticipatory' way when we…are 'peace-makers' and practice reconciliation, when we act justly and mercifully, or when we effect healing and liberation."
The next section of his article though is where his analogy really strikes home (for me anyway!). Here is how he explains the 'now and not yet' concept:
"This 'anticipation' is not merely our thinking ahead, our imagining. It is like the bud anticipating the flower; like the gust of wind on the subway platform anticipating the arrival of the train. It is like the expectant mother already anticipating – not only in her mind but in her very being – her motherhood; like the brilliant young musician anticipating the full flowering of the concert performance. In each case the future is already present in an elusive but real way. So it is in our experience of the presence of salvation's (future) fullness or the Kingdom's coming."
Envisioning our 'future present' in everyday images we can relate to makes the Good News easier to explain and understand. Make sure you check out Mostert's article. It will enhance your understanding of our purpose as Christ-followers.
Facebook Comments