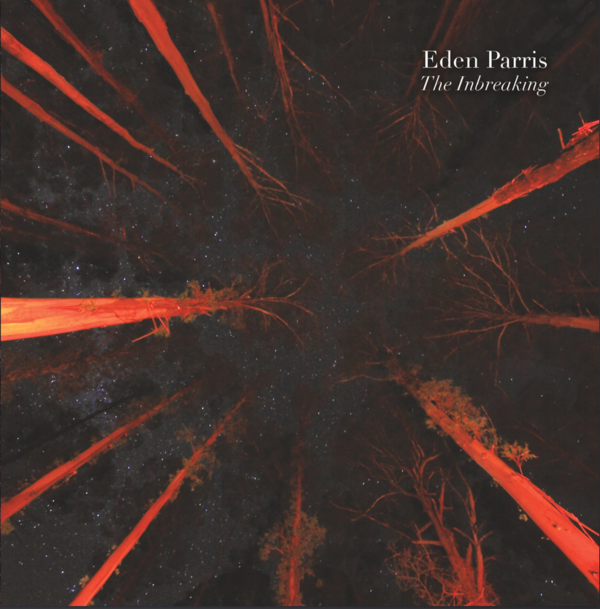 The Inbreaking is Eden Parris' third album, and his music still impacts me the same way it did when I first heard it about five years ago.
Having known Eden for quite a few years now, I have seen how his music and lyrics arise out of a genuine, searching faith that seeks to make real his passion for the kingdom of Jesus to come on earth as in heaven.
Eden's music is a breath of fresh air in a world of Christian music that is largely manufactured for marketing purposes. Albums like The Inbreaking are strangely reminiscent of many of the old Christian hymns, not for their musical style but for their earthy, genuinely Christian theology.
The title and opening song of the album illustrates this eloquently. A song about the inbreaking of the kingdom of God in Jesus, it strongly reflects the hope of the outbreaks of God's reign on earth that are being seen across this weary world.
This is ultimately what this album is all about. It is an album of hope, containing songs of the future vision – indeed songs of a new day – when the old order of things will have passed away and there will finally be no more tears and no more pain.
The Inbreaking expresses in simple, joyful music the great Christian hope, that heaven is coming here, and indeed that that process has already started in the life, death and resurrection of Jesus.
Songs like "New Day Coming" and "Into the Sun" express with lyrical beauty and simple joy this hope of a new world as well as Eden's desire to die to self so he can play his part in the inbreaking that he is so passionate about.
The Church needs more artists like Eden Parris. It needs more people who articulate a biblical theology of hope, who are unafraid to emphasise what is most important to Jesus. When Eden challenges us with the question of whether or not we fed the hungry, visited the prisoner or took in the stranger, he is merely echoing the simple and direct words of Jesus in Matthew 25, the only scene in the gospels containing an image of the final judgment.
This album has that wonderfully rare balance in Christian music of emphasising the kingdom of God – what Jesus spoke about more than anything else – in all its beautiful vastness. Both personal and social in its breadth and depth, The Inbreaking is an album that is at once challenging and encouraging, joyful and moving. 
Eden Parris has done it again. If you want to get closer to God and become more intimate with the Gospel, buy The Inbreaking. It will draw you to the Christ of the gospels. There is no greater compliment than that.
Check out some of the songs from The Inbreaking at http://edenparris.com/music and check out his Facebook page here: https://www.facebook.com/edenparrismusic/
Facebook Comments