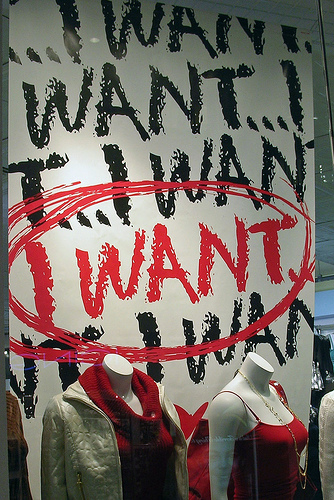 It's not always good to get what you want. That is something we tell our kids when they're young. But it is really one of those "do as I say not as I do" instructions. We live in a culture of want, not in the sense that we lack anything, but in the sense that we don't lack anything yet we still want more.
One of the things we learn as we grow in maturity is that it is healthy to sit with pain. Our culture teaches us to medicate pain. The main drivers of culture in our society by far are the media. Never has a statement been more true than the one that says "the medium is the message." We are overwhelmed with about 3,000 advertisements every day, most of them being subtle. About 99% of those ads are deliberately aimed at fooling us into believing we have a void in our life that will be fixed if we buy this product. So we do.
Whether the pain we feel is real or not, we find it extremely difficult to just sit with it. We are actually given the message in different ways we are stupid and even psychologically unhealthy if we don't do anything about the pain we feel. Don't misunderstand this. This is not about being masochistic; it really is psychologically unhealthy to go looking for pain. But to be able to sit with pain when there is no need to medicate it builds resilience in the human spirit. The lie we believe is that if we deny ourselves a certain pleasure to medicate our pain, we are missing out. But it is just that: a lie.