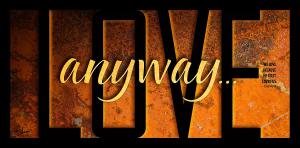 "To love at all is to be vulnerable. Love anything and your heart will be wrung and possibly broken. If you want to make sure of keeping it intact you must give it to no one, not even an animal. Wrap it carefully round with hobbies and little luxuries; avoid all entanglements. Lock it up safe in the casket or coffin of your selfishness. But in that casket, safe, dark, motionless, airless, it will change. It will not be broken; it will become unbreakable, impenetrable, irredeemable. To love is to be vulnerable."
– C.S. Lewis
Love, by its very nature, involves a level of pain, because it is sacrificial. It's very essence is to give, thereby leaving it open to betrayal and abuse. But to love is to live; it is the only way to have joy in life.
I find it fascinating that, in the moment of his greatest betrayal and desertion by his best friends, Jesus spoke of his own joy (John 15:11). This is the only time in all the gospels that Jesus speaks of his own joy. This was also the night before the agony of his crucifixion, which was also his greatest act of love.
For Jesus, love involved great pain. But he loved anyway. And within it he knew joy.
This all reminds me of another quote from a person who knew what it was to love. Mother Teresa once said this:
"People are often unreasonable, irrational, and self-centered. Forgive them anyway.
If you are kind, people may accuse you of selfish, ulterior motives. Be kind anyway.
If you are successful, you will win some unfaithful friends and some genuine enemies. Succeed anyway.
If you are honest and sincere people may deceive you. Be honest and sincere anyway.
What you spend years creating, others could destroy overnight. Create anyway.
If you find serenity and happiness, some may be jealous. Be happy anyway.
The good you do today, will often be forgotten. Do good anyway.
Give the best you have, and it will never be enough. Give your best anyway.
In the final analysis, it is between you and God. It was never between you and them anyway."
Love anyway.
Facebook Comments