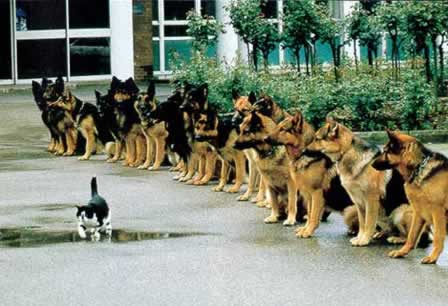 Life is a choice.
We find that this is true especially when we struggle. It is through struggle that character can grow. In fact I would say that it is only in struggle that character can grow. We can choose to rise above our troubles or decide to be overcome by them. Rising above them doesn't mean ignoring them and pushing them asunder. It means moving forward regardless of the storms of life that are swirling all around us.
One of my great heroes, and probably the most courageous person I have ever known of (apart from Jesus, who chose to go to the cross knowing full well what it would cost) is Martin Luther King. Check out this quote from King from his sermon, Antidotes for fear (Don't worry about the gender-specific language. It was written in the language of the day. Of course this quote applies equally to women as to men):
"Courage faces fear and thereby masters it. Cowardice represses fear and is thereby mastered by it. Courageous men never lose the zest for living even through their life situation is zestless; cowardly men, overwhelmed by the uncertainties of life, lose the will to live. We must constantly build dikes of courage to hold back the flood of fear."
Often when trouble strikes, we can feel overwhelmed, even paralysed, by fear. It has certainly happened to me. What I have found is that it is through the growing understanding that we are always ok in God's sight, and slowly coming to the realisation that we can no longer deny God's unconditional love for us, that we gain the courage to face whatever is in front of us. This can take years, and in reality, is never fully completed until the day we pass from this earth.
Courage is not the absence of fear though; it is admitting that you might be scared sh*tless but moving forward anyway. That's where it is a choice. There is nothing wrong with being scared; it is when we allow our fears to overcome us that we never deal with the challenges we are facing.
One of the many examples of Dr King's courage in the face of adversity is captured in this quote from a sermon he wrote while in jail for civil disobedience:
"Throw us in jail and we shall still love you. Bomb our homes and threaten our children, and we shall still love you. Send your hooded perpetrators of violence into our community at the midnight hour and beat us and leave us half dead, and we shall still love you. But be ye assured that we will wear you down by our capacity to suffer. One day we shall win freedom but not only for ourselves. We shall so appeal to your heart and conscience that we shall win you in the process and our victory will be a double victory."
This is what love does, love born of the courage to face fear, look it full in the face and say, like Gandalf in The Lord of the Rings, "you shall not pass!".
Life is a choice. God give me the courage to face it on its terms.
Facebook Comments