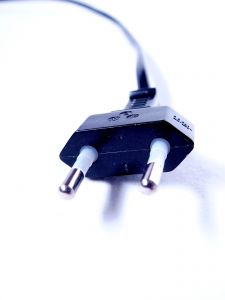 In a day when everyone is connected, there is more evidence that we are actually more disconnected than ever. Our greatest human need is for a different kind of connection – connection with the other, but most importantly, connection with the Other. Star-struck lovers gaze into each other's eyes, longing to be one with each other; in our Western culture, when we engage in conversation, we know when someone is listening when they are looking into our eyes; and when you want someone's attention, you try to find eye contact. Richard Rohr also talks about a connection with animals. It is not for nothing that we call a dog our best friend. Many elderly people live much healthier lives for having a dog as a companion in their lives. Rohr talks about looking into the eyes of an animal like a dog and sensing a connection with another creature of the universe.
Much of our behaviour, in fact I would probably argue all of it, is a symptom of our desire for connection. Whether our behaviour be good or evil, it is all about our desire to find life, to transcend the purely physical part of our existence. Years ago, John Smith emphasised that the Rolling Stones song Satisfaction was not about sex and trying to 'get some girly action' at all, but about a frustration at not finding something deeper. U2 sang about not having found what they were looking for – in their own lives and in the injustice in the world – despite 'believing in the kingdom come'. Believers in God or not, we long for something more. Our lives are about trying to find a connection with something higher, something greater than ourselves. And the fact is we will never find it fully until that day when all things are renewed and there will be no more striving after futile things. We look through a glass darkly; now we know in part; then we shall know fully, even as we are fully known (1 Cor 13:12).
Our problem with our desire for connection though is that we often do it by trying to find our self in someone else. We get married believing that our spouse is there to fulfill all our emotional needs, and when he or she doesn't, we get disillusioned and look elsewhere. The next relationship is sure to fail as well until we come to realise that it is not about finding the right person but being the right person. I am so thankful for an older male pointing this out to me back in my 20s. In our desire for love and connection, we go too far and use other people. Jonathan Burnside says 'the essence of a perverted relationship is getting information about someone else, and then working out what I want to do, so I get what I want'. I am getting better at not doing this but I still do it way too often.
We are inherently selfish people. We live as if it is my way or the highway. We actually believe at times that if everyone would just do things my way the world would be a much better place. But this only leads to more disillusionment. It has been said that you only get disillusioned if you have illusions to begin with. How true is that? What disillusionment then gives birth to is resentment. Someone else has said that 'expectation is the mother of resentment'. We expect someone else to behave in a certain way, and when they inevitably don't, we get resentful at them. Who do we think we are? I have found that to be true time and time again in my life. You would think I would have learnt it enough by now that it would have sunk in. But no, when I have my own expectations of what I want to do on a particular weekend at home and my wife tells me her thoughts, that old feeling of resentment kicks in yet again.
The word 'resent' actually means to re-experience pain. A friend of mine has said that resentment is the poison I drink to kill someone else. When you think of what is going on when we are feeling resentment towards someone, it's maddening isn't it? We are actually choosing to go back and feel the pain of the anger again and again. Often the person we are feeling the resentment towards doesn't even know about it. Yet we still have the attitude of 'I'll show them!'. The definition of insanity is doing the same thing over and over and expecting a different result.
The human desire for connection is a curious thing. We desire more than anything to be close to someone but at the same time we so often choose to lock ourselves away in isolation and separateness from the ones closest to us. Resentment is a classic way of doing this. The old saying that it is the ones we love the most who we hurt the most is as true as anything that has ever been uttered. The irony is that in trying to connect, we actually willingly disconnect, depriving the other person of ourselves. It is then that we are often tempted to misconnect with another in an inappropriate and destructive way. I talked about this in my previous post on affairs.
Our desire to connect is often masked as a desire to find happiness. Our society is built around the individual's desire or even demand to be happy. Our advertising is specifically designed to create artificial desires in us to make us consume products we believe we actually need. How often do we wonder how we ever got by without mobile phones or without email. But the fact is we did, and quite nicely (don't get me wrong; I am not knocking mobile phones or email. They are wonderful inventions, but, like anything, if relied upon inappropriately, they will inevitably disappoint). In trying to find happiness in life, we often seek connection in a misconnection. That which we think will solve all our problems actually turns out to make us feel more apart from and more isolated.
I wonder what all this says about what we really believe about life? When we choose a direction that is so clearly not constructive for our relationships, I wonder if the truth has ever made that longest of journeys from our head to our heart. It is possible to believe something intellectually, to 'know' it in your head, but not have a deep conviction about it. It is only when a truth is lodged deeply in our heart that we really know it. Deep down we all have a longing for relationship, ultimately a relationship with God. It is the essence of who we are. We are made by a God who is in his very being, relationship. That's why coming to faith in Christ often feels like a coming home. When I had an experience of this in my late teens, my overriding sense was that this is what I've been looking for all my life. Not that I had often even been consciously aware of it. But when I found it, it was like one of those 'a-ha' moments when I had a realisation of something I had always known. It was a bit like the scene in Return of the Jedi when Luke Skywalker tells Leia that she is his sister, and she looks into the distance and quietly exclaims "I know. Somehow…I've always known."
Nature abhors a vacuum, and so does our soul. We simply cannot survive with our souls unplugged, just hanging out in the nothingness of a seemingly empty universe. Our human desire is to be plugged into life and love. When we love we have a clearer sense of what life is all about. It is then that we find what our souls have been looking for all our lives. It is then that we know joy, in humility and submission. It is about surrendering our ego, our arrogance, and our self-sufficiency. Augustine said that our hearts are restless until they rest in God. Jesus bid those who are weary and heavy-laden to come to him and find rest for their souls. This is where we find life, in resting in him and finding out how to live right. When Martin Luther King asked a colleague on one of their freedom marches if she was tired, this old lady said calmly, "my feets is tired but my soul is rested." She was plugged into life. She had found her true connection, and she was living the dream. God help me to do the same each day.
Facebook Comments