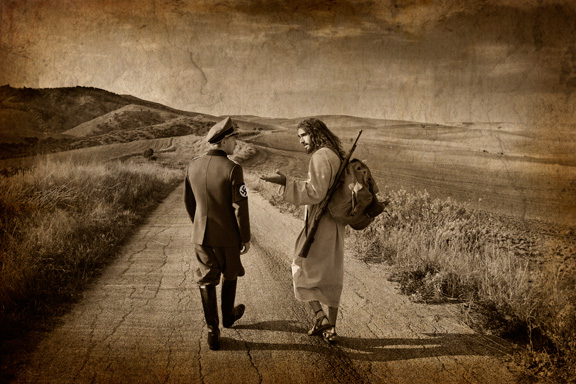 John 21:15-19 is possibly the most profound story in the whole Bible. It shows the simply, well 'extravagant' is too small a word for it, grace of God to sinners like you and me. Jesus deliberately singles out Peter and purposefully asks him three times if he loves him. This is not a sign of neurotic insecurity from Jesus, having to ask three times if one of his best friends loves him. It is a declaration of forgiveness of the highest order.
It follows directly Peter's denial of Jesus three times on the night of Jesus' greatest need. On the darkest night of Jesus' life, a night so dark that no one before or since has had to endure anything like it, Peter deserted him. Ever the outspoken one, always quick to declare his undying loyalty to Jesus during their three years together, Peter fails when the true test of his loyalty faces him.
The extravagant forgiveness of Jesus as a new day dawns by the Sea of Galilee – a new day in a truer sense than even the disciples probably then realised – is simply mind boggling. The interesting thing is how Jesus forgives Peter. He does not simply tell Peter that it's ok, don't worry about it. Many translations put a heading above this story called 'Jesus reinstates Peter.' I don't think this goes even far enough. Jesus actually gets Peter to step up to the plate. He forgives him by commanding him to be a leader in spreading the Good News that he is now receiving, and to look after the new movement that is about to change the world forever.
When a person in a leadership in a church confesses something terrible they have done, the usual step is to get them to step down from their position for at least a time. This occurs even if the person is fully repentant. You see it over and over. But as we see in this incredible passage, it is not the way of Jesus. Instead of getting Peter to step down, Jesus gets him to step up. He affirms Peter, telling him that he will be one of the main leaders in the fledgling movement.